Miyazaki style of archery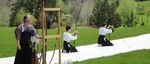 This style of archery is famous in Miyazaki and Obi Nichinan in which a short bow is used with the archer shooting from a sitting position. Unlike other archery styles, the distance to the target is almost 8.2 meters and the bow is also quite short, while the arrows are remarkably long. Nowadays Shihan-mato is known as a leisure activity and mostly performed in Obi Castle.
I experienced this amazing yet very difficult archery in the festival of life experiences in Nichinan city
http://michikusan.seesaa.net/article/429902613.html.
It was quiet interesting, but it needed enough practice to hit the target. However, my husband hit the target in his first try and our instructor encouraged him by the sound of drum. Overall, it was fun trying Miyazaki style of archery. I recommend to try it at least once when you visit Japan.
By: Ateffa Jalali