A day full of thrilling, delightful and delirious experiences
Tokyo Dome City Attractions is an amusement park located next to the Tokyo Dome in Bunkyo, Tokyo, Japan and it is one of the most popular amusement parks in Tokyo.
We planned going to this theme park at the third day of our trip.
Trust me, we didn't look like two married couples but some teenage friends who weren't thinking about anything else but doing fun and crazy things!!
By the moment we entered this theme park, our heart beats increased to max and we had butterflies inside.
Thunder Dolphine
The 10th tallest roller coaster in the world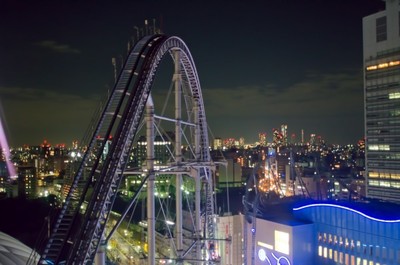 We started our amusing night with Thunder dolphin, the exciting hyper-roller-coaster jetting through the Big-O Ferris Wheel. It is 80 meters (260 ft.) tall with 66 m drop, and 130 km/h (81 mph) speed!!
Safety controllers were quite strict and that gave us a feeling it is going to be breath taking. Of course it was! By the time the ride started, I was thinking when will it end??? I was yelling for few seconds and quiet in the next, gasping for breath and shouting again!!!
Honestly, I cant tell you about its wonderful view cause I had closed my eyes out of fear. :p
Sky flower
Next we tried the Sky flower that floated like a parachute. It was all fun and not scary. I am a brave girl except for the thunder dolphin. ;)
Super Viking Sorabune
A huge pirate ship swings widely
This one was my favorite and we rode three times on three different seats and enjoyed a lot.
Wonder Drop
A falling 13-meter-high dive!
Well yes it was winter and extremely cold, but as I said we wanted to try crazy things and was focusing on having fun rather than the weather. That's why we tried it twice and was shaking with wet clothes in windy and extremlly cold weather.
The Big-O
World's first hub less Ferris wheel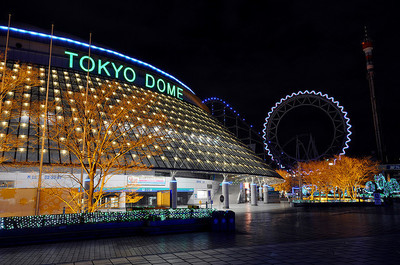 I don't regret closing my eyes in Thunder Dolphin, as I got a magnificent and impressive view while sitting in the Big-O.
To sum up, Tokyo Dome was a great place for entertainment and made our trip to Tokyo more special. We took countless pictures that won't let us forget all the amazing things we experienced.
By: Ateffa Jalali