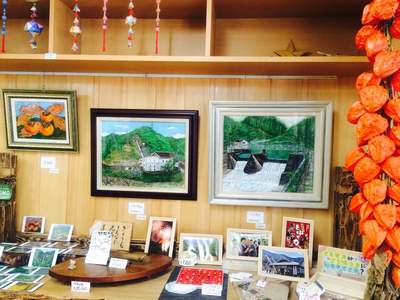 I am really impressed after knowing the reason behind the name of this amazing shop. Momo is the name of a children fiction story by the author of the never ending story, Michael Ende. It is the story of the time-thieves and the homeless girl "Momo", who brought the stolen time back to the people. In other words, she is against civilization and wants to keep art, recreation, imagination and other social activities alive. Now that is exactly what this Momo collection shop does!!
Momo collection shop is an interpretation of the village. It depicts the happiness, pleasures, and beauty, of Nishimera Village and talent of its villagers'.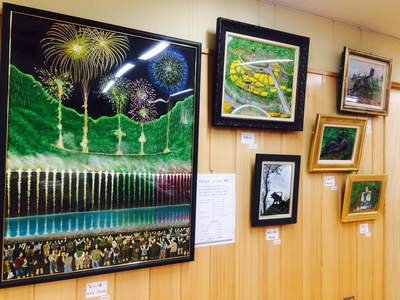 I couldn't take my eyes off these amazing paintings specially the one portraying Hanabi Festival. As the population of this enchanting village is estimated as 1,298, it is a great place to visit for enjoying Hanabi Festival. Other places are usually very crowded during this festival so hard to enjoy it.
This unique shop has arts that portray every beauty and unique parts of this village; attractive origamis'; handmade loudspeakers and pens made from bamboo; Christmas tree decoration stuffs; and much more.
Oh how can I forget about the "Sekobozu" or ground cherry lantern?
Coming to an art promoting place, you may also want to make something to show your skills. You can try making this unique lantern I already have three at home. They remind me of the wonderful experiences I had in this enchanting village.
http://michikusan.seesaa.net/article/434128943.html
In addition, there are many stationaries and other useful items like towels, umbrellas, insect bite bracelets and all the handy items you usually find in a convenient store, which is not available in Nishimera Village.
I also loved the balcony, which was a very simple yet pretty comforting place to sit while drinking coffee and starting daydreaming or any sort of imagination. I can assure you no noise will disturb you here.
In short, it is a complete package of exceptional arts and hand made things and obviously worth visiting.
By: Ateffa Jalali