Watching sunrise in the land of the rising sun!
Every new experience is exciting and has the power to make you thrilled easily. We could even feel some butterflies while we were planning for it.
August 12th was our 2nd wedding anniversary and we wanted to do something new, memorable and exciting. So we decided to go for camping in Aoshima beach.
It was just a one day camping but you wouldn't guess so if you had looked at the luggage (camp equipment, tea, dinner, etc.). We carried them in our cycles to the train station and then went by train and few minutes of walking.
We enjoyed the dinner in the beach summer restaurant with wonderful lightings and music before we set up our tent.
Setting the tent was like building a small world of us and labelling one part of the beach by our name even if it is for one night.
Later, we were so tired already that the tea with dry fruits tasted just extra ordinary.
Actually, we weren't allowed to make fire at the beach but they didn't say we can't light candles haha so that was what we did. It was hard to light them when the weather is little windy but we kinda buried half of the candles to light it up.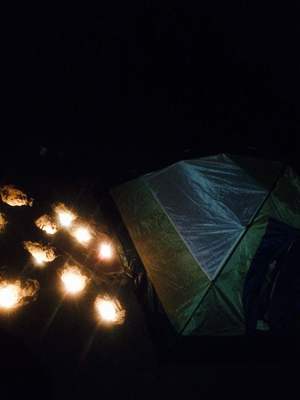 The weather was somehow hot so we preferred sitting outside the tent to do star gazing for a while.
The lights in the beach were on until 11:00pm I guess and soon everywhere got real dark and we thought we were the only ones left in the beach. Even wave sounds got louder to scare us, all at once!
After few minutes we could hear Japanese chatters and guess what we got unexpected company. There were two other groups a group of girls and a group of boys who were celebrating something; we didn't ask what it was though.
We took three hours nap, actually I took a nap, but my husband was awake protecting me or what; any ways I enjoyed being a wife to be taken care of. Haha
It was 3:45 Am when he woke me up and we went for a walk and take something to drink. We could still look at wide shinning sky full of amazing stars.
The beach had started to brighten up a bit and we were excitingly waiting for the sunrise which is very popular in Japan. As the Japanese name of Japan is Nihon or Nippon that literally means 'the sun origin'. Also, it is translated as land of the Rising sun.
And I know you can guess how wonderful will be swimming in the sea in the early morning or watching the sunrise from middle of the sea relaxing in a swimming tube. That was the most memorable and exciting part of the camping.
The experience was great, but I guess very short as the next morning we didn't want to remove our camp or go back home. Next time we will do coming for longer than that.
By: Ateffa Jalali