An event representing love, peace and cooperation of Muslims
Sunday 3rd July, was the second annual Iftar (Breaking fast) tent event which is held every year in the holy month of Ramadan http://michikusan.seesaa.net/article/438977553.html , organized by MCM (Muslim Community of Miyazaki).
In this event all the Muslims of Miyazaki coming from different countries and speaking different languages cooperated as brothers and sisters representing the real brotherhood of Islam and made a prosperous event like this possible.
We were privileged by having honorable guests including Tsuyomu Ikenoue President of UOM, staff of UOM, many other respected professors and students .
We began our program with recitation of some verses of Holy Quran by Mr. Ziaurrahman Hejazi, followed by the informative speech of Mr. Ahmad Farid Azizi, President of MCM, and Prof. Tsuyomu Ikenoue.
Later, Mr. Abdul Jabar Maeda, who is a Japanese Muslim, gave speech about Islam and Ramadan.
The last speech was by me about Status of women in Islam. As most of time only the limits and restrictions of woman in Islam is discussed, I wanted to talk about rights and privileges of them. I could see the content of my speech was very surprising for some guests and I felt accomplished to answer those common questions about woman rights in Islam. My husband and lively announcer of the event, Emran Nasery was little worried that his responsibilities increased after I knew even the small details about my rights haha. Yet he was not my target, because he is the best husband and has given me all my rights.
After my speech, it was time for Iftar and the food was organized in buffet style a very colorful dinner table with delicious international halal food from Afghanistan, Indonesia, Egypt and more.
All the guests enjoyed a lot.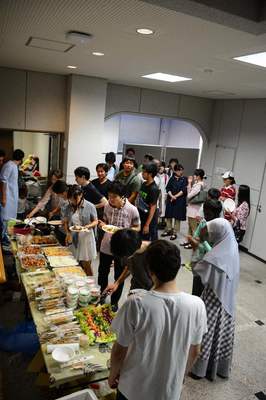 The purpose of having such event is to show the world how loving, kind and generous Muslims are and all they want is having a peaceful life.
We ended the event after taking some memorable photos.
Waiting to see this large number of amazing guests increase in the next year.
By: Ateffa Jalali