Obi Castle Town and Udo Shrine
You must have read about the first day of our trip to Nichinan City through my previous post, and if you haven't here you got the link. http://michikusan.seesaa.net/article/434667158.html
After the tasty breakfast in Nichinan Daiichi Hotel, we started our stroll to Obi Castle Town. It was a nice rainy day
Obi Castle Town
A historical monument
Obi Castle was the main castle of the Ito clan during the Edo period (1603-1867).Prior to that time, many battles were fought between the Ito clan and the Shimazu clan, from neighboring Kagoshima, for possession of the castle.
The castle's front gate, and the "Matsuo-no-maru" hall have been carefully restored, and the stone wall which has surrounded the castle during the Edo period still remains.The area around Obi Castle is an important preservation district for Groups of traditional buildings.
I am really not much interested in history, but experiencing them from close rather than reading from books was not that bad. I was impressed by their clever ideas regarding the structure of the castle to protect it from its enemies.
My favorite part was trying the old traditional Japanese Kimono. I really loved it. It was heavy, colorful, and stunning. Everyone was looking like princess, warriors and Ninjas with those beautiful costumes. It actually took us back to ancient times.
My husband in ninja costume seems like really went deep into the character. Glad he didn't get hurt or hurt anyone. haha
Next, we had a delicious lunch at Galley Kodama. We broiled the fish on shichirin, a small charcoal grill. I am really thankful from Nichinan Tourism Company for providing halal food for us and allocating time for our prayers.
It means a lot to us.
Vouchers exchange for free local specialties
Obi Castletown Walking Tour was another amusing part of the trip. This walking route map is a great bargain, which includes vouchers that can be used at any five of the 36 stores located near Obi Castle, as well as free-admission tickets for places such as history museums. We walked around the town and exchanged the vouchers for local specialty dishes, general merchandise, and even souvenirs.
Udo Shrine
The shrine inside a cave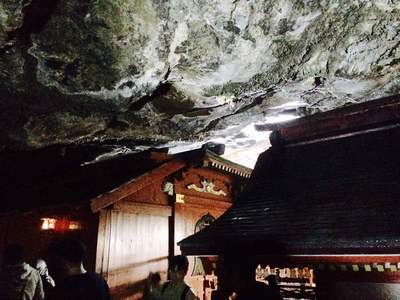 The last destination of our trip was udo shrine. It was a unique shrine with a very impressive view. I had heard about cheese manju of Udo shrine so much that I just couldn't miss it. It was mouthwatering and very delicious. Its cheese taste just fills my mouth, when I remember it.
Outside the cave there is a terrace among the rocks that has a target marked by rope in which people try to throw lucky balls. In case the ball lands in the target, it is thought to bring good luck.
We took a lot of pictures in this beautiful shrine and over all the trip and I am surely going to add them in my travel album. The pictures will keep the sweet memories alive for ever.
It was a wonderful trip and I can't wait for the next one.
By: Ateffa Jalali