(Globally Important Agricultural Heritage Systems)
GIAS has the vision of dynamic conservation of all agricultural heritage systems and their multitude of goods and services, for food and livelihoods security, now and future generations.
GIAHS initiatives promotes public awareness, national and international recognition of Agriculture Heritage Systems. It connects agriculture, forestry, traditions and culture of Forest-utopia.
In 2002 FAO (Food and Agricultural Organization) started an initiative for the dynamic conservation of GIAHS to safeguard and support world's agricultural heritage systems.
In 2016 project of increasing the leverage, 36 areas of the world was certified by GIAHS, eight of which were from Japan.
In the GIAHS conference, in Miyazaki city (on 2nd March, 2016 ) attended by our company Ai-road Inc, it was explained that in these certified areas they encourage the farmers and residence to progress in efforts of branding agricultural products and other people to visit those places, experience regional activities and take advantage of the blessings from the forest.
In 1987, they stablished Takachiho world agriculture heritage promotion council. Later, in 2015 Takachiho town was recognized by GIAHS as an agriculture heritage area and was certified by FAO too.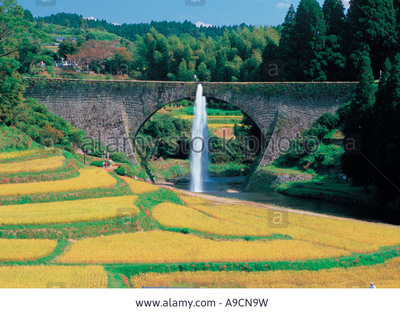 Other places like Gokase town and village, Hinokage Town, Morotsuka, and shiiba villages are also certified by FAO. The regions mentioned above, had water problems due to altitude slopes, which was solved by creating mountainside waterway. Those efforts resulted in having 1800 ha of terraced rice fields.
The conference also discussed traditional cultures of the regions are also connected to agriculture. We can know about precious traditional cultures by visiting Takachiho town and Shiiba village. These traditions include singing "Hietsuki" songs by farmers during collecting the harvest or performing "Kagura" dance to thank for those harvests. These traditional cultures are extremely important as a Japan cultural and spiritual pillar.
Preserving these priceless areas are very important, but the challenge is that people who took care of the farms and mountains in those areas are aging and young people are not willing to do those tasks.
To overcome this obstacle we need to publicize the charms of agriculture and forestry of these regions to the world and promote the development of human resources responsible for the need. All of them will also support regional revitalization.
Now that you know this valuable information, you may want to do something about it, right?
The good news is that Miyazaki Green Tourism Association and Ai-road Company are planning a trip to Usa city, Oita prefecture. It is also one of those valuable regions, which is worthy of a visit to learn about their local life and cultures besides having fun. For further information you can contact our company, Ai-road Inc.
Email: michikusa26@ybb.ne.jp
Tel: 0985-23-3443
Fax:0985-44-2404
By: Ateffa Jalali