A borderless and memorable trip
Kyusyu Central Mountains Tourism Promotion Council and Ai Road CO., Ltd organized a trip to Nishimera on 13th -14th February.
This trip included participants from travel companies, international students, and local villagers.
Sightseeing train "Den-en Symphony"
This exciting trip started with an amusing ride in a royal Sightseeing train "Den-en Symphony".
We were amused by visiting interesting places and doing fun things in every stop of the train.
At first stop we rode the mini train then watched the Daimyo show, which was very fascinating. At second one every one rang the lucky bill. Later we stopped for drinking tea, as the weather was rainy it was a perfect time for a hot tea.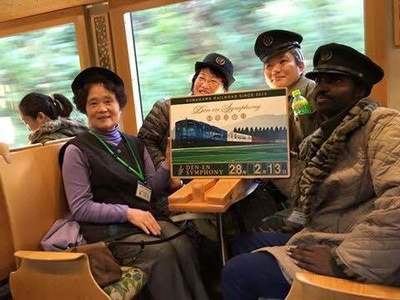 Daimo show
Restaurant Tokumaru for lunch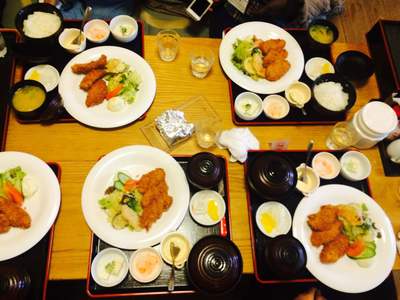 At the last stop, we had delicious lunch at Tokumaru Restaurant. Considering travelers' need halal food was provided for the Muslim foreign travelers. They were all very grateful for the effort.
Walking around Yunomae Town and Cartoon Museum in Yunomae
After the lunch, we had a brief walk around the beautiful town of Yunomae. We saw many stunning handmade dolls of "Hinamatsuri" or doll festival. We also visited Ryosuke Nasu, political cartoonist's cartoon exhibition and one of his cartoon movie in which he portrayed politicians in a satirical way after their era was finished.
Ground Cherry Art craft experience in Nishimera
Using the local materials we learned making "Sekobozu" or ground cherry lantern. It wasn't just an experience, but also a reminder that won't let us forget the wonderful experiences we tried and memories we made in the trip.
Hot Spring in Nishimera Onsen YUTARTO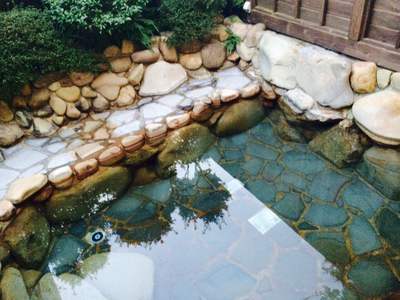 A relaxing hot bath is what our tired body wants from us after a long day in the trip! Some travelers enjoyed the destressing and comforting onsen at Yutarto and others enjoyed the wonderful and highly attractive decorations of Doll Festival.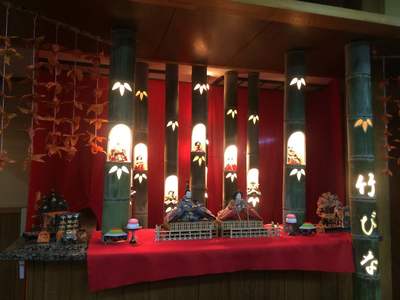 Dinner party with local folks in OGAWA Sakugoya Mura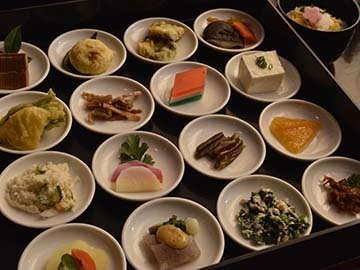 Later we had a dinner party in Ogawa Sakuoya Mura. The presence of Nishimera folks made the dinner party very special. For most of us it was the first time to do dinner and get to know the kind welcoming villagers of the place we visit. The hospitality and love they showed will always be a strong reason to visit Nishimera again.
After the dinner, we had a friendly and pleasant party in which we found about hidden talents of the participants beyond the border.
Tour Plan Day 2
Breakfast in OGAWA Sakugoya Mura
A gratifying warm welcome to the cold morning breakfast. In the breakfast gathering everyone was more easily socializing with each other taking about the fun memories they made together and waited impatiently for the next enjoyable experiences. Now, it was time to leave the castle that looked like the ones we heard in fairy tale stories. The beauty of its impressive sceneries can hardly be expressed by words! Seriously, We didn't want to leave the place!
Bread baking experience at YURARI in Yunomae
Bread baking was the second motivational and creative experience of the trip. Everyone was putting a great amount of efforts to design the colorful breads better than the other groups, an unintentional competition had arisen. Later, we ate our handmade breads with hot coffee and green tea while interacting and enjoying each other's company.
Lunch at Stone Built Community House ISHIGURA in Taragi
Before starting the lunch, we got a chance of visiting "Hina Matsuri" dolls decorated with flowing kimono of many layers and elegant colors on red carpet, and usually arranged in hierarchy starting from the Emperor, Empress and going down through the ranks.
Afterwards, the guide Mr. Go explained the history and culture of the Stone Built community house, Ishigura which was built as a storage warehouse of wheat and rice "showa". The place is now used as a local exchange facility. It's worth mentioning that the lunch boxes served there was also delicious.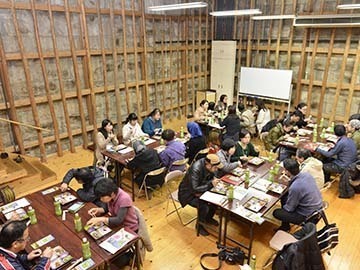 Sightseeing tour of the Blue
Train in Taragi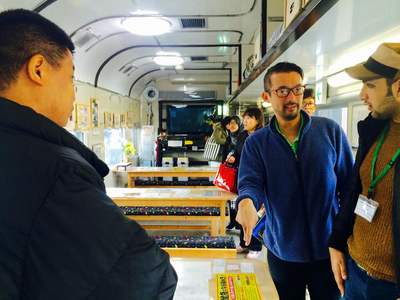 Here comes another train! Yet this one was quiet different than the Sightseeing train "Den-en Symphony". The Blue Train was used from (Tokyo ⇔ Kumamoto) until March 2009. We were amazed by the clever usage of accommodation space in this train.
Over all, it was a borderless international trip that give an opportunity to know and respect each other's cultures. International students were able to visit places they didn't know much about and couldn't go there without a travel agent.
All the travelers were happy and delighted learning new skills and experiencing things together. For most of us, night stay at Ogawa Sakugoya Village and sightseeing train was the most memorable parts of the trip and we all wanted to come back and try them with our friends again. It is worth mentioning, that local people were very glad to see outsiders appreciate their village so much.
By: Ateffa Jalali