Take a compass before eating the Fortune roll (Ehomaki)
Today is 3rd of February and by the time I entered the office I was amazed by looking at my colleague eating a sushi roll with a big mouth! That was when I got to know today is Setsubun festival!!! She brought tasty sushi rolls for all of us!
According to legends, when Toyotomi Hideyoshi was fighting for the ruler ship of Japan, one of his samurai, Horio Yoshiharu, ate a rolled sushi on the evening before the battle and they won the battle. Thus, it is believed eating sushi roll brings good luck and drives away demons of Setsubun.
In Ehomaki, which literally means, 'direction of blessing roll' seven fillings are traditionally rolled in. The ingredients represent good health, happiness, and prosperity and rolling the fillings means good fortune.
It is usually eaten with eyes closed, in total silence, making a wish, facing the auspicious direction of the New Year, as it changes every year.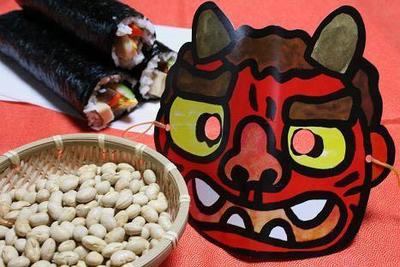 There is also another tradition of putting beans in your plate, then counting the number of your age and eat one bean for each year. Later, you take the remaining beans to the front door and say "Oni wa soto! Fuku wa uchi!" which means "Demon out, good fortune in!" Then throw them out in the streets.
By: Ateffa Jalali