Handmade super delicious soba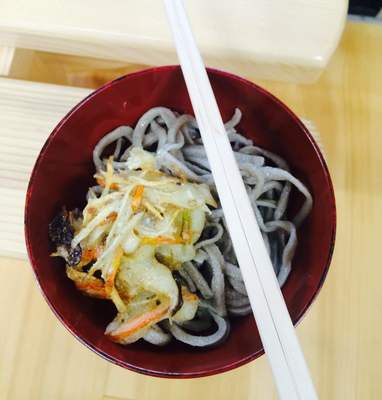 Noodles are the most popular and easily available dishes of Japan. There are many types of them; you can find more information through the link below
http://michikusan.seesaa.net/article/429431109.html
Soba noodles are noodles made of buckwheat flour, roughly as thick as spaghetti.
There are many types of soba like Mori/Zaru soba, Kake soba, Kitsune soba, Tanuki soba, Tempura soba, Tsukimi soba, Tororo soba, Sansai soba, Nanban soba, etc.
Soba noodles are available in dried form in supermarkets, but freshly made by hand from flour and water taste is just incomparable.
I experienced making soba noodles in a travel tour of Ai-road Company in Nishimera Village. We were making the most basic soba dish, Mori Soba in which boiled cold soba noodles are eaten with a soya based dipping sauce (tsuyu).
Our cook and instructor Mr. Keisuke Kuroki, started by teaching how to make the dough from buckwheat, wheat flour, water, and salt.
After stirring the dough with a wooden stick for around 15 minutes, he kneaded them to form the dough. Next, he shaped it into a rectangular shape and started rolling it.
This one is rolled by me so not the perfect shape but still works. ;) Next, he sprinkled flour onto the counter to prevent sticking and folded the top third part of the dough downward and bottom third part upward.
After folding, he cut the noodles half a centimeter (a quarter of an inch) thick.
Afterward, we boiled water in a large pot and add salt before dropping the soba and cooked it for two minutes.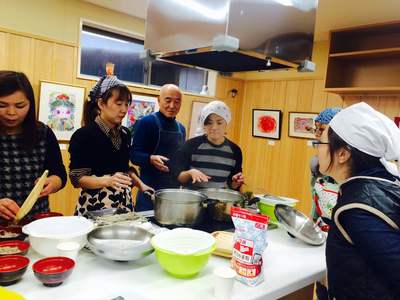 Subsequently, he drained them and rinsed them under cool water immediately.
That's it! Soba noodle was cooked in an easy way and a kind villager of Nishimera had cooked tempura, pieces of highly battered deep fried mixed vegetable, to be used as the topping of soba. Delicious soba is ready!
I had already tried tempura and loved it, but it was my first time to make and eat soba noodles. It was quite interesting.
This is how my Japanese lunch looked like.
I will probably try this special soba noodles at home too with the difference of adding some spices, as I and my husband can't live without it. :p
By: Ateffa Jalali