A visit by Miyazaki TV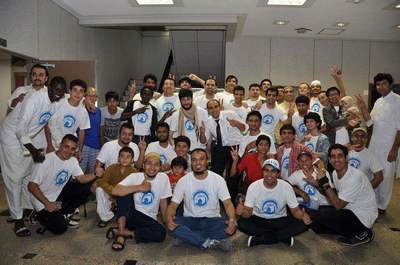 "Different plants thrive together in a well nurtured garden. Just as they thrive, they pass on a message to mankind - God created us all to thrive with one another and planted love in our hearts for this reason. Let's learn to embrace each other, knowing Love is all we have to keep us growing and going." (Kemi Sogunle)
Number of Muslim residents in Miyazaki Prefecture of Japan is increasing. Currently there are more than 300 Muslims from different countries like Afghanistan, Indonesia, Egypt, Nepal, Pakistan, Bangladesh, Malaysia, Senegal, Mauritania, etc. Most of them have come through scholarships for getting their Masters and Doctors degree.Some of them have also brought their wives' and children with them.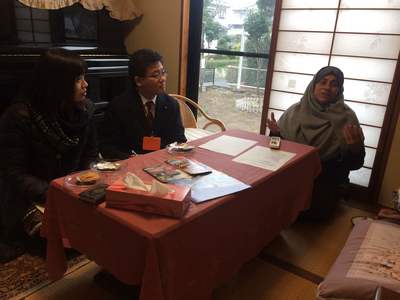 Miyazaki TV visited Muslim community to know their problems in order to help Miyazaki become a better place for Muslims.Journalists of Miyazaki TV were amazed to see Muslims from different countries being very friendly and sociable with each other like a family.
Most of the Muslim students are living in International house, University of Miyazaki and are very busy to cook their lunch at home and couldn't find halal lunch boxes. Fortunately, the problem is solved by Ms. Thanaa Maeda who is making halal lunch boxes for students of Miyazaki. I am really thankful and happy because of the efforts of Mrs. Maeda.
(A picture of the exceptionally tasty halal food lunch box she makes)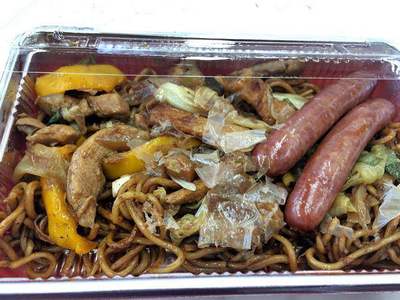 Moving to other problems, I shared two most common ones Muslims living in Miyazaki have. One of the most common one is finding halal food. Muslims' diet is governed by Allah's law. Based on which Muslims can't eat pork, alcohol, and meat of animals that are not sacrificed by mentioning Allah's name over them.
That is the reason why some of the daily foods available in Super Markets and other convenient stores are allowed to be consumed by Muslims, because some of them contain alcohol, animal derived ingredients, pork extracts or shortenings, pig oil, gelatin, etc.
I suggested the solution that Super Markets allocate a specific area for halal food. For example among milk packages, bread, yogurt, cakes etc. the ones that don't have alcohol, pork or other animal derived materials can be put in halal food area. This will really help Muslim's living in Miyazaki most of whom don't know enough Japanese to read the ingredients by themselves and end up not buying that product when not sure of them being halal.
In Happiness store there is a small area for halal meat, soy sauce etc. that really makes us happy and that's the place we mostly shop.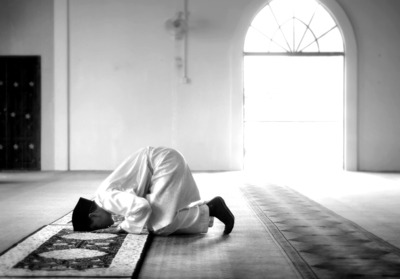 Second problem is lack of prayer rooms in public places. Muslims pray five times a day. Morning prayer( Fajr), noon prayer( Dhuhr), afternoon prayer (Asr), evening prayer( Maghrib), and night prayer( Isha).
As three times of prayer are during the day while we are outside our homes and they have a deadline and should be performed in the specific time. We face this problem every day or at least every weekend, which we usually spent shopping in Aoen Mall, Miyaco city and other shopping malls.
Therefore, if possibly there were small rooms available in big shopping malls for prayer, we won't have to pray outside, in the bus or car.
Though, I really am thankful of the company I work in, Ai-road Inc. that allows me to pray in the meeting room every day! This really shows their respect toward my religion and I heartily appreciate it.
Saying of the problems above doesn't mean we are having difficulties living in Japan, rather we all are so happy to be living in a country that doesn't have any prejudice toward our religion and respects it.
All of the Muslims living in Miyazaki including myself, want to be examples of living peacefully together to prove that the picture that media shows of Muslims is not true, we are not terrorists! Our religion doesn't teach us to be terrorist! It teaches us to be honest, truthful, and kind to everyone.
By: Ateffa Jalali