Tokyo's most popular tourist attraction and date spot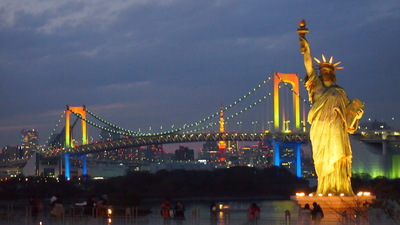 Odaiba is a large artificial island in Tokyo, popular among locals and tourists with a wide selection of shopping, dining and leisure options.
I visited Odaiba twice with my husband. Once in detail in day time and once on New Year's Eve to enjoy the shinning and romantic night scenery of the Tokyo tower and Rainbow Bridge, that connects Odaiba to the rest of Tokyo and is highly attractive with night illuminations.
If I hadn't been there at night I wouldn't know why it is a famous date spot. Now that I have been there I can say it is due to the long quite walk at sandy beach will easily bring out the special words of a heart. And feeling sea breezes in the poetic and magical environment would make it hard for the person to reject. ;)
It was such a relaxing and peaceful place that I wanted to make a tent, light a fire and sit there until dawn, but we had to rush and reach to Tokyo Tower for the count down.
http://michikusan.seesaa.net/article/432177155.html
It would have been injustice to the beauty of this man –made Seaside Park, if we hadn't visited it in detail for a longer time.
Next day, we came back and spent the whole day in the center of Odaiba called Aqua city Odaiba. It includes a shopping mall with a 300-meter-long boutique street, a multi-flex cinema, and a gourmet zone that stretches over 15,000 square meters, which is the largest of its kind in Japan.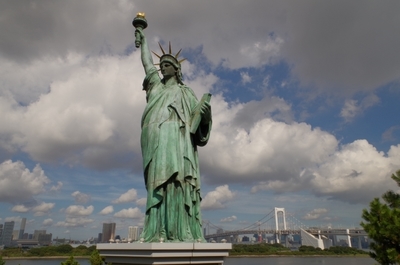 yet, I haven't jumped into talking about Statue of Liberty in New York. Actually, it is a replica of the statue that was made in Odaiba to celebrate Japan's ties with France. And it is a recommended photo spot for having Tokyo Tower and Rainbow Bridge in background.
There are so many things to do in Odaiba like staring at the stunning lake, skyline, bridge and garden. That's what makes visiting it a great life time memory.
By: Ateffa Jalali