Winter Solstice
Touji "winter solstice", is celebrated on 22nd December in Japan, which has the shortest day and the longest night in the northern hemisphere. Traditionally in China and Japan, this day is considered as the day sun has least power and recovers its power day by day.
On Touji, Japanese people have the custom of eating pumpkin and have a bath with "Yuzu" orange. Yuzu is a very sour citrus fruit with strong sharp fresh smell. Also, it is good for skin, warms you and protects from getting cold.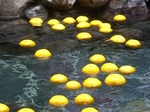 Similarly, pumpkin is rich in vitamin A and carotene and protect us against cold. Besides pumpkin, some people say all the foods that end in (んn ) which is the last letter of hiragana order and people give the same meaning as the day of Touji or "winter solstice" will be lucky food to eat in this day. For example, Ninjin (carrot), daikon (Japanese white radish), Udon (thick white noodles), and other food.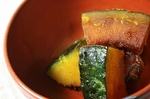 To sum up, it is not only a superstition, but also a way of taking more vitamins and staying healthy.
By: Ateffa Jalali