Meeting of gifted villagers in Nishimera
In one of the post I had written, that Nishimera village's air must have an endowment of nurturing talents.
http://michikusan.seesaa.net/article/428577348.html.
I will support that sentence by giving you more reasons to believe it.
In this meeting of 17th December in Nishimera office of Ai-road Inc, I met many talented and skillful villagers. The environment was very social and everyone started by introducing themselves and showing their handicraft they had made with patience, and dedication.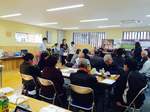 I was amazed by the skill of Mr. Keisuke Kuroki, who made a speaker from bamboo and a lantern from "Hozuki" which means physalis alkekengi also known as Chinese lantern, and strawberry ground cherry.
I was lucky enough to receive the Japanese lantern handicraft as a present. :)
Mr. Tomoyuki Tazume is another talented villager of Nishimera, who made awesome paper flowers and paper masks.
Well to surprise you I didn't attend the opening just as an employee of Ai-road Inc. I displayed my paintings too. The sunset was liked by most and I was very happy that Mr. Sadakichi Kuroki, who is a great artist,
http://michikusan.seesaa.net/article/428577348.html
praised my painting.
He said, he could see a massage behind my paintings and I was glad he noticed it. He also liked the cherry blossom tree I painted with water color.
I have already posted about Ms. Momoko Kuroki's impressive handicrafts (
http://michikusan.seesaa.net/article/427512259.html),
but it did worth reminding you again.
This time she also made materials for New Year and Christmas decorations. This new year if you want to decorate your home with your own skillful hands, you can use your talent using these materials.
By:Ateffa Jalali