New Year's parade of the firemen
Undeniably, Japan is a country of high technology, rich culture and art and New Year in Japan is bountiful of traditional festivals.
Dezome-shiki is a centuries-old classic New Year tradition that originated from firefighters in the Edo period (1603-1868).
Tokyo was called Edo and it was known as a city of fires. Indeed, a completely new firefighting system established after almost the whole city of Edo had burned down in 1657. Thus, the main purpose of this event is to display modern firefighting techniques and instill confidence to residence of Edo toward the new firefighting system. It also raises the morals of fire fighters.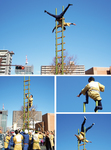 The main attraction of the event is the breath taking ladder stunt which is accompanied with a traditional music. Firefighters dress in festival coats and perform acrobatic stunts on top of a bamboo tower being supported by a group of men, but without safety ropes.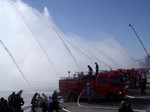 At the end, firefighters use hoses and shot jets of water into the sky, water-spraying from fire-trucks, boats and helicopters all at once.
By: Ateffa Jalali