It is month of December so all over Japan there are preparations for Japanese New Year.
This annual and traditional festival is celebrated according to Gregorian calendar, on January 1st of each year. The Kadomatsu is a traditional decoration of the New Year holiday.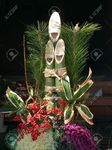 During new year celebrations, Japanese people eat special dishes called "osechi-ryon" or shortened as "osechi", that includes boiled seaweed, fish cakes, mashed sweet potato with chestnut, simmered burdock root, and sweetened black soybeans.
There are different types of osechi and it differs region to region.Nowadays sashimi, sushi, and other non- Japanese food are often eaten too.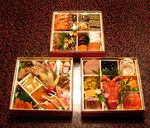 Even with the rise in popularity of emails, Japanese have a popular custom of sending New Year's Day postcards to their friends and relatives. Addressing is generally done by hand to reveal their talent of shodo
http://michikusan.seesaa.net/article/428917617.html
Otoshidama, giving money to children, is another custom of Japanese New Year. It is handed in small decorated envelopes called " pochibukuro". The amount of money usually depends on the age of the child. It is similar to our custom of giving money to children in Eid (Muslim religious festival or Holiday). That's one of the reasons that children wait for this type of festivals more than elders and are usually happier.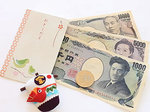 Making and eating rice cakes
http://michikusan.seesaa.net/article/428639527.html;
writing poems about every first thing of the year like first sun, first sunrise, and first dream; and kite flying are also part of the custom.
This will be my first new year in Japan, thus I want to know more about the customs and enjoy each of them.
By: Ateffa Jalali