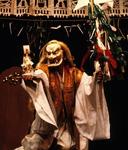 Kagura is a Japanese word referring to a specific type of Shinto theatrical dance. The epic Kojiki and Nihonshoki describe a folklore origin for this dance.Based on the epics, Kagura dance involves storytelling and reenactment of fables of a famous legendary tale about the sun goddess Amaterasu, who hided in the cave and made the world dark and cold.
Basically there are many types of kagura like Imperial kagura and Folk Kagura. Folk Kagura includes Miko kagura, Izumo-ryu Kagura, Ise-ryu Kagura, Shisi Kagura, and Daikagura. Originally kagura started as a sacred dance performed by shrine maidens, however nowadays, it is like a living tradition in special occasions.
In this energetic dance, the dancers wear horrifying costumes and masks. It is usually performed by villagers of different ages rather than professional dancers.
In different ceremonies these performances are done by dance groups from various local communities.
I have watched many videos of this cultural and religious dance, but I want to watch it live one day.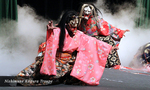 By: Ateffa Jalali