Friends of the world
It is not our differences that divide us. It is our inability to recognize, accept, and celebrate those difference. (Audre Lorde)
Miyazaki International Festival, held on 21st November, was a festival of celebrating the cultures of foreigners living in Miyazaki Prefecture. One of the great things about living in Japan is their acceptance of multicultural variances and their respect toward foreigners' religion, principles, and all other differences. The activities included 10th Annual art Festival, Japanese speech contest for foreign residents, Miyazaki Tea booth, Japanese practice sessions, JICA International Cooperation booth, Country booths and Japanese armor booth.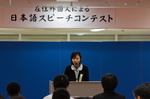 Country Booths
In country booths, foreigners living in Miyazaki Prefecture were assigned at booths to represent their home countries. Every booth displayed a bit of their culture and traditions. I am sure they must have felt like being in their own country for one day. The colors of hanged flags and happy faces of its nation made the festival highly attractive.
To be honest I wasn't that attached to my country's flag when I was in Afghanistan, but now when I see it in Japan, it gives me a feeling of finding a beloved thing that I belong to. The small girl is wearing Afghani dress and his father is also wearing traditional clothes of Afghanistan.
Here is the Namasti team of India. Ofcourse you could get it from their beautiful costumes, Sari. Not only Indians, but also Japanese girls also wore Sari. It makes me very happy to see such a peaceful and friendly international gatherings!
Also, Korean booth displayed Korean Kimono called "Hanbok", the traditional Korean dress.
Indonesian students displayed their talent through singing performance using a musical instrument called "Anklung", made from bamboo. They are wearing traditional clothes from different Indonesian islands like Java and Sumatra. The black and maroon dresses are called "Kebaya", red and yellow dress is called "Baju Bodo", and the man was wearing "Beskab".
Japanese Armor Booth
In this booth, visitors could try samurai armor and take pictures. Many of them even look like real samurais except for their happy faces ;)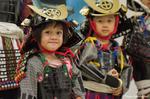 Posted by: Ateffa Jalali