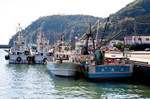 On 23rd November I attended Nichinan city festival with my husband
http://michikusan.seesaa.net/article/429902613.html
and we went to cruise and fishing in Aburatsu port. The cruise was awesome, and the weather was just right for it. Nature sounds were a little bit interrupted with the sound of the ship, but still I could hear them and it was giving me quiet and peaceful feeling.
The funny part, that makes it even more memorable, is we didn't catch a fish, but as it is said there is no losing in fishing, you either catch or you learn.
Fishing is not just about catching a fish. It teaches to be patient, keep trying, and never give up.
Indeed, every new experience we try we actually make a new memory.
I always wanted to have small adventures and new experiences but maybe I didn't find opportunities good enough to fulfill them.
I feel lucky I found a life partner who is more adventurous than me. Now every new experience of my life is double fun!
By: Ateffa Jalali