Dreams are the most complicated and mysterious part of our life. We dream every night but yet have thousands of questions about it!
Why are some dreams more real than others?!
When we cry in our dreams why do our eyes get wet in real?
Why can't we escape, shout or move sometimes?
Some dreams of mine are so real that it takes a few minutes to think was it a memory or a dream?! But whatever it is, I love my dreams. A good dream has the power of making me smile the whole day.
Indeed, dreams are the most beautiful part of our lives, but real dreams are done with an open eye. A real dream is a goal you set for your life and if you are dreaming of getting the stars and you miss it, you will at least take a handful of clouds. (Mike Tyson)
We all dream, but the difference is how we deal with them in our lives after we wake up. We can treat them like a goal that leads to real success and happiness or just merely a dream.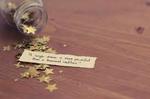 By: Ateffa Jalali