(Miyazaki International Café)
The campus wasn't the only place of holding the programs in Miyazaki University food festival
http://michikusan.seesaa.net/article/429762773.html,
but all the floors of the Education Faculty building had special programs like art exhibition, handicrafts exhibition, bazaar and some informative programs.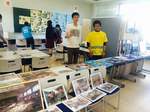 On the fourth floor I visited Everyone's café by MIC. It offered tea from different countries like Afghanistan, Nepal, Magnolia, Malaysia, Indonesia, and Taiwan.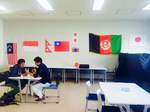 My husband tried saffron tea from Afghanistan and I tried doodh patti, a special type of milk tea from Nepal. It was simply awesome. Milk tea is my favorite beverage and I usually drink it, however it tasted different as it had a small amount of black pepper too.
The environment was far more special than usual cafés, as we were welcomed by international staffs.
By: Ateffa Jalali