A cheerful, lively and crowded festival
Miyazaki's campus was filled with brightly painted signs, food stall tents, noises, excitements, and lots of fun programs in a two day food festival.
It was like an international spot where you could taste foods from a variety of countries, as there were international students who represented their country through cooking their local dishes. There were numerous food stalls offering different foods and snacks. Every dish had a special tent where it was cooked. The foods included curry stick, chicken nanban, sweet potatoes, Nabe, banana chocolate, tuna salad, fried vegetables, steak skewers, crepes, corn dogs, takoyaki, yakisoba, etc.
The fancy costume of cooks and smell of grilled dishes made it a difficult choice to select which dish I wanted to try.
One tent was allocated for Muslim community, where Muslims from many countries together served halal food, which included Palaw (rice), chicken curry, and Indonesian Mie Goreng (spicy noodles).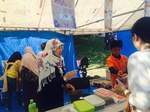 Campus was filled with vendors selling snacks like banana chocolates, sweet soy-sauce glaze popcorn, cotton candy, and believe me it was hard to say no!
There were many fun programs and live performances, which I will write in detail in my next posts.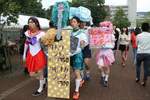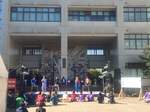 By: Ateffa Jalali