An essential part of Japanese cuisine

Tofu, also known as bean curd, is a food made by coagulating soy milk and pressing the curds into soft white blocks. While pre-made soy milk can be used, some tofu producers make their own soy milk, which is produced by soaking, grinding, boiling and straining dried soybeans.
There are many types of it like:
Soft or silken tofu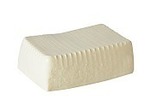 Firm tofu
Deep fried tofu
Freeze dried tofu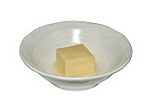 And fermented tofu
In fact, tofu has very little flavor or smell on its own, thus it can be prepared either in savory or sweet dishes. Popular dishes that use tofu includes yudofu, miso soup, agedashi dofu, mabodofu, hotpot (Nabe), Kitsune udon, inarizushi (type of sushi), and Hiyayakko, which is fresh chilled tofu garnished with grated ginger, bonita, green onion and seasoned with soya sauce.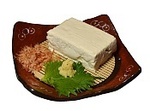 I tried tofu in Nabe and udon. The first bite of it reminded me of paneer (curd cheese made by curdling heated milk with lemon juice or vinegar), that is used in Indian cuisine and in Afghanistan we eat it with raisins with breakfast or tea.
By: Ateffa Jalali