Japanese hot pot dishes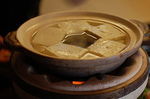 Nabemono or simply called
nabe
refers to different Japanese hot pot dishes, also known as one pot dish.
I tried nabe for the first time in Fuji Inn, Nishimera Village. It is a very unique and sociable way of having dinner with friends and family. Most nabemono are stews and soups served during the cold season. Nowadays in Japan, nabemono are kept hot at the dining table by portable stoves. Thus the dish is cooked on the table, allowing more time for chit chats while it is being cooked.
There are two types of nabemono in Japan, which are lightly flavored stock, eaten with a dipping sauce to enjoy the taste of ingredients; and strongly flavored stock usually with miso, soy sauce, dashi etc. The pots are traditionally made of clay or thick cast iron and they are usually placed in the center of dining tables and diners can take the cooked ingredients they want from the pot.
Nabe has different varieties like yosenabe, chankonabe, yudofu, Sukiyaki, Oden, Motsunabe, etc. Regional varieties of nabemono in Japan contains regional specialty foods such as salmon in Hokkaido and Oyster in Hiroshima. Although, I like fried dishes more, but trying new ways have always been fun.
By: Ateffa Jalali
Our dinner table in Fuji Inn