Traditional Indian Dessert
Ingredients
1. One cup dry milk powder
2. 3 tablespoons all-purpose flour
3. 2 tablespoon butter or oil
4. 1/2 teaspoon baking powder
5. 1/2 cup warm milk
6. Nuts (optional)
7. Cardamom
8. 1 Quart oil for deep frying
9. 2 cups of sugar
10. 1 Lemon
Direction
First, in a large bowl mix together the milk powder, flour, baking powder, and cardamom. Pour some melted butter or oil mix well then pour warm milk and continue to mix until well blended. Cover it and let it rest for 15 minutes.
Secondly, in a large pan mix two cups of sugar with one cup of water and let it boil for 20 minutes in medium heat. After it becomes thick enough, add some cardamom and few drops of lemon to prevent crystalizing. Then, set it aside.
Third, knead the dough and use some oil in your hands to help you make small and perfect round balls.
Now, fry the balls in a frying pan in medium heat until they turn brown. Remove from the oil to a bowl and allow to cool slightly. Place the balls into the sugar syrup and simmer over medium heat for about 5 minutes to soak up the syrup.
Now eat this rich dessert with hot tea or coffee.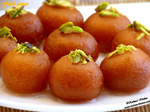 By: Ateffa Jalali