Nishimera village's air must have an endowment of nurturing talents. Previously I wrote about handi crafts of my colleague, Ms. Momoko Kuroki from Nishimera (
http://michikusan.seesaa.net/article/427512259.html),
and today I want to write about the art gallery of Mr. Sadakichi Kuroki. Most of the pictures in his gallery portrays the seasonal beauties of different places in Nishimera, also yukagora dances (religious performance). I admired all his paintings but the one displaying the scenery of rice crops field with hanged fire alarm bell is my favorite. He has expressed his affection to this village through his art and says will sell them only to people who really loves them.
Ateffa Jalali,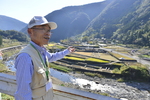 Mr. Sadakichi Kuroki in Nishimera village