Handicrafts have a magic of dragging us towards them. One of the reasons can be the fact that we become amazed by the talent and hard work of the person who has made it with creativity and full dedication. My colleague Ms. Momoko Kuroki, one of Michikusa staff, makes origami (Paper folding) for Ai-road Nishimera Office, which is used as one of Miyazaki Baby Stations.
She has used different natural materials like acorn, wood drift, chestnut, brunches, leaves and sometimes felt and fabric for her amazingly intricate designs of origami and fabric dolls and has the experience of making dodecahedron and trihedral paper crafts.
You can see some pictures of her creative and beautiful art work below. It includes origami ornaments, a mobile with hanged cockles, tapestry, and different photo frames using driftwood from rivers of Nishimera village.
Now, here is the good news. Our company, Ai-road Corp., is planning to use her attractive and matchless origami in the souvenirs and other selling products.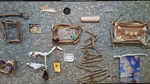 By: Aeffa Jalali